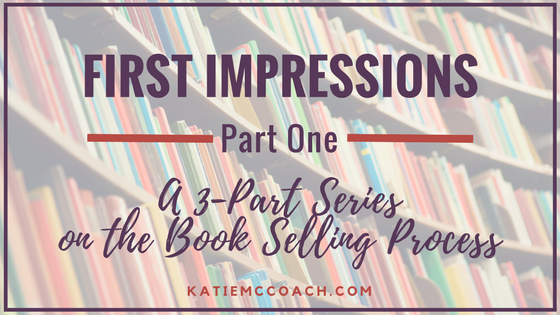 A 3-Part Series on the Book Selling Process
Getting a reader to buy your book is one of the hardest things authors go through. There are so many factors involved in a consumer's choice, but in this three-part series, we'll talk about the three most basic steps to book-buying. Are you utilizing all three?
The basic book buying process:
Step 1: Book cover catches readers' eye.
Step 2: Blurb entices them.
Step 3: Opening pages hook them.
Your book cover is the first impression a reader will have of your book, and even of you as an author. Don't waste this opportunity! Show readers you are worth investing in—a fabulous cover gives readers an idea of the quality they can expect to find in the pages.
What does your book cover need to do?
Be eye-catching
Look professional (high quality)
Convey genre, audience, tone
Stand out
Things you can do to stand out:
Hire a cover designer whose style syncs with your goals
Create a custom font for your book titles and/or your author name (or keep a consistent font for all your covers)
Use similar themes, patterns, colors that match your style/brand
Beta-test covers with a select audience
Be sure that your cover image aligns with the content of the book. There are subtle messages that images/font/colors send to readers; a dark and gloomy cover might not be the best choice for a seductive contemporary romance novel. Do your research on your genre and audience. Walk around a book store and make note of the types of covers that stand out to you. Which ones did you reach for to read the blurb?
Next month, for Part Two in this series, we'll talk about blurbs: How to make the most of your book description/cover copy to entice the readers.
When you sign up for the KM Editorial monthly newsletter you'll receive a free downloadable Guide to Getting Published.