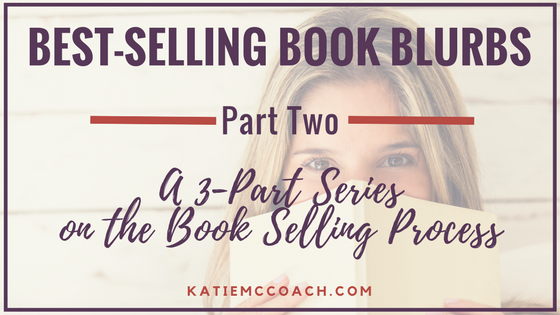 A 3-Part Series on the Book Selling Process
This is a three-part series on getting a reader to buy your book. Did you miss part one? View it here. 
As you'll recall from our previous blog post, the second thing that sells a reader on your book is the cover copy—your book description.
You may have the best hook on the first page of your book, the first sentence even…but what if no one sees it because your book description is dull?
Your book blurb needs to do 4 things:
Hook Readers
Tell readers what they'll get out of the book
Express genre, tone, audience
Leave readers with intrigue
How do you do this, you ask?
In order to entice readers, you want to give away enough of the story that they feel like they can hold the story in their hands. Give them some meat, a little muscle—not just bones. Be sure to include the main character(s), an idea of who they are, their goal, the stakes (what they stand to lose if they can't reach the goal), and finally, the conflict. Set the story up, but don't solve it all for us.
Think of this as a pitch—if you were to talk to someone about your book, how would you sell it? What would be the part of the book you'd want them to sink their teeth into? What would sell you on this book?
Here's an example of a top selling book—
A Merciful Death by Kendra Elliot
FBI special agent Mercy Kilpatrick has been waiting her whole life for disaster to strike. A prepper since childhood, Mercy grew up living off the land—and off the grid—in rural Eagle's Nest, Oregon. Until a shocking tragedy tore her family apart and forced her to leave home. Now a predator known as the cave man is targeting the survivalists in her hometown, murdering them in their homes, stealing huge numbers of weapons, and creating federal suspicion of a possible domestic terrorism event. But the crime scene details are eerily familiar to an unsolved mystery from Mercy's past.

Sent by the FBI to assist local law enforcement, Mercy returns to Eagle's Nest to face the family who shunned her while maintaining the facade of a law-abiding citizen. There, she meets police chief Truman Daly, whose uncle was the cave man's latest victim. He sees the survivalist side of her that she desperately tries to hide, but if she lets him get close enough to learn her secret, she might not survive the fallout…
Tip: Try using the Rule of Three to your advantage.
This is a writing principle used to introduce events or characters in a pattern that has a satisfying payoff to readers, whether that be because it's humorous, easier for readers to recall the information, or because of the rhythmic quality to it. When it comes down to it, it's just catchy. Try doing this in three short sentences, or in one sentence with three examples. Did you notice I did it in this paragraph?
Here's an example of a book blurb that utilizes the Rule of Three—
Collision by Alexandra Wright
When a collision of two parallel worlds creates a portal, Ella's eyes—and heart—open to the impossible.

FREE AT LAST
Eighteen-year-old, tell-it-like-it-is Ella Beuchene is about to graduate from a prestigious high school, and yet she's never felt more trapped. Her family is hell-bent on forcing her into a future she doesn't want. Her boyfriend no longer gets her. And her best friend is keeping something secret. Something that could shatter their friendship for good. Ella is desperate to escape her "privileged" existence.

Then, one warm summer night, Ella finds herself in the woods behind her house. The forest is lusher than ever before, the creatures of the night louder, and the moon brighter. Beneath its green canopy, she meets a mysterious, striking stranger. A man who gets her, who shifts her perspective of the world, and who…wait for it…glows in the dark.

From that moment on, Ella's not sure that it's just her life she wants to escape. It may be her world.
Here's a final example of a blurb that hooks the reader while providing a character to feel invested in. In the case of this story, the concept is the true hook.—
The Hunger Games by Suzanne Collins
In the ruins of a place once known as North America lies the nation of Panem, a shining Capitol surrounded by twelve outlying districts. Long ago the districts waged war on the Capitol and were defeated. As part of the surrender terms, each district agreed to send one boy and one girl to appear in an annual televised event called, "The Hunger Games," a fight to the death on live TV. Sixteen-year-old Katniss Everdeen, who lives alone with her mother and younger sister, regards it as a death sentence when she is forced to represent her district in the Games. The terrain, rules, and level of audience participation may change but one thing is constant: kill or be killed.
Still unsure about the blurb? Watch this informative Reedsy webinar I took part of with other fantastic editors recently: How to Refine your Novel's Blurb and Opening Pages to Capture Readers' Attention
Next month, for Part Three—the final part—in this series, we'll talk about opening pages: How to write an opener that finalizes the sale.
When you sign up for the KM Editorial monthly newsletter you'll receive a free downloadable Guide to Getting Published.